Angëlia : Hair Mask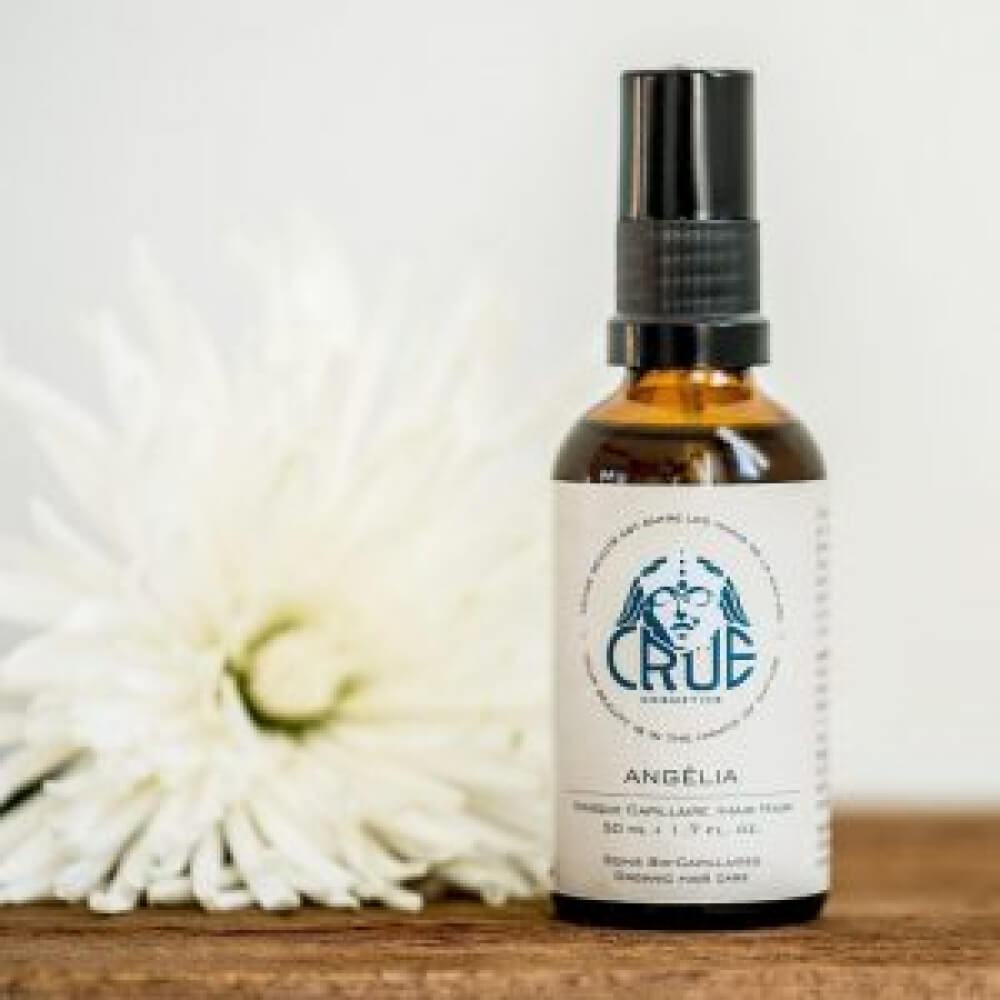 In our Angëlia Hair Mask, Safflower oil, Hemp seed oil, and Jojoba oil all come together to create an exquisite hair oil that will leave your hair feeling soft, manageable and simply angelic.
In our Angëlia Hair Mask, Safflower oil, Hemp seed oil, and Jojoba oil all come together to create an exquisite hair oil that will leave your hair feeling soft, manageable and simply angelic. Safflower oil is higher in essential fatty acids Omega-3 and Omega 6 than any other oil. This will nourish your hair follicles, protects your hair, moisturize, and stimulate blood circulation to promote hair growth and thickness. Jojoba oil seeps into the follicles and dissolves the sebum buildup and Hemp oil is packed with vitamins E, vitamin D and vitamin B6 that all nourish and improve the health of your hair and scalp. Horsetail gives Angëlia Hair Mask a high dose of scilica and selenium which are minerals essential for the proper growth and vitality of your hair, while Brahmi's anti-inflammatory properties inhibit dandruff and prevents shedding. The essential oils Tea tree, Ylang Ylang and Sandalwood add a soothing aroma while contributing to your hair's overall health and appearance. Perfect for natural or chemically treated hair that needs to regain luster and softness. At Crüe Cosmetics your beauty is in the hands of nature.
SAFFLOWER OIL (organic)
HEMP OIL (organic)
JOJOBA OIL (organic)
HORSETAIL (organic)
BRAHMI (organic)
TEA TREE ESSENTIAL OIL (organic)
SANDALWOOD ESSENTIAL OIL (organic)
YLANG YLANG ESSENTIAL OIL (organic)
Use as a pre-shampoo treatment for intensely hydrated hair. Apply to detangled hair and cover with a shower cap or hot towel for 30-45 minutes. Shampoo and condition as usual and follow with Gaïa oil rinse for best results. Leave this treatment on hair overnight and wash out the next day for especially dry hair.
Carolyne
19 octobre 2020
Being a mother to 3 young ones, I always search for natural products that I feel comfortable using while taking care of my babies. The reason I love Crüe Cosmetics' hair mask Angëlia is because it's so simple to use and I know it's completely natural, so it won't irritate my little ones if (when) they get their tiny hands in my hair. The ingredients give my hair what it needs for optimal hydration after a trip to the hair salon. I like that it's a very light oil. I spray it on, tie my hair up in a bun, let it work its magic while being able to go on with my busy day. Then I just wash it out and right away I can see results! My hair is shinier and so much softer to the touch. I bleach my hair to be blond, so I usually need about 2 treatments for my hair to be fully rejuvenated after a trip to the salon. After those 2 treatments, I'm able to let my hair air dry without any "frizz" left. Love it!!! The fact that it's handmade by a local company, also resonates with my values. I'm all about uplifting my community and supporting local businesses. Thank you Crüe!
Nicole Klein
27 mai 2019
After my pregnancy my hair was very dry, flat and dull. It was lifeless. I tried cutting it short and using very expensive products with a long list of unknown ingredients but it remained dry. After a couple of years of failure I tried Crüe Cosmetics Neptune Oil. It changed my world! My hair is back to being long, bouncy and shiny. I often use the Neptune oil right after washing my hair and it gives my curls a beautiful style and I could feel it nourishing it at the same time. I find it brings out the natural highlights of my hair. I love it so much I also use it on my five year old son! I style his hair with it since its all natural and gives it moisture at the same time. It really defines his little curls. I also use the Angelia hair mask once a week to really get that moisture in. I'm loving Crüe Cosmetics all natural products and all the compliments on my hair that I'm getting because of them!