The 5 Phases of Hair: Understanding The Basics of Healthy Hair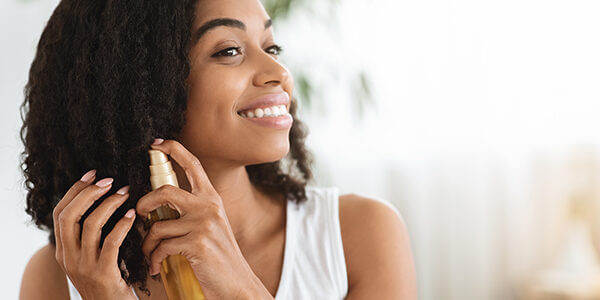 Hair Care Tips
Life as we know it is a constant cycle. Weather, nature, birth, death and yes, even hair growth is also a cycle. The interesting fact about the hair growth cycle is that it has a direct influence on how long your hair will grow, it's thickness and how much hair you will keep on your head after a certain age.
Many of us don't know that we have five different phases of hair growth. Indeed, the hair cycle is a flowing dynamic process and today we will look at this cycle and its different phases to better understand them, and then use this information to achieve optimal hair health.
Here we go!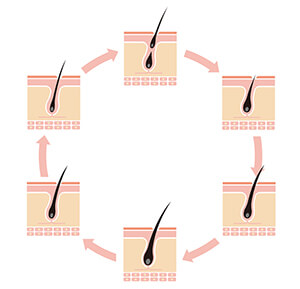 Anagen
This is the growth phase of our hair and therefore the stage everyone loves the most! In this phase the hair strands are still connected to blood supplies and receiving nutrients. This stage lasts anywhere between 2-7 years, and about 85% of our hair is in this blissful stage at any given time.
The anagen phase itself is also broken down into 6 stages. During these stages we see the formation of the bulb and follicle, as well as the cells that give our hair their final color (melanocytes).
It is interesting to note that only two different types of melanocytes exist: Eumelanin and Pheomelanin. Eumelanin is responsible for black and brown pigment and Pheomelanin for yellow and red pigment. Regardless of your hair color, we all have both of these pigments on our heads. The proportion that we possess of each of them is what will determine the final outcome of our hair color.
The final stage of the Anagen phase begins as soon as the hair emerges at the surface of the skin. This duration is said to be genetically predetermined. Which explains why certain women grow hair down to their waists while others see their hair length stop below their shoulders. Keep in mind that if unhealthy hair habits are causing your hair to break off continuously, you may never have actually seen the complete phase of Anagen revealed to you in terms of hair growth on your head.
Catagen
Have you ever noticed a long strand of hair on your pillow with a small white tip at the opposite end? This is called a club hair and it started developing in the catagen phase. The catagen phase is a transitional phase. At this point there is no more hair growth left to be had and the anchor that incapsulates your hair strand to its follicle begins to break down. What this means is that your hair is slowly preparing itself to detach from your hair follicle. This stage lasts about 3 weeks and is characterized by the hardening of the hair bulb that is then pushed upwards towards the surface.
I know what you're thinking: "7 long years of hair growth only to lose it 3 weeks later?" Well not quite… At this stage your hair is no longer growing but has not left your head yet. As a matter of fact, after so many years of hair growth, your hair follicles need a little rest! This rest will take place in the next phase, called the Telogen phase.
Telogen
The Telogen phase lasts about 3-4 months and it is the resting phase. The hairs in this phase are no longer receiving nutrients, therefore they tend to start looking dull and are more prone to breakage. At any given point about 15% of your hair is in the Telogen phase. The fact that we have an average of 150 000 hair follicles on our heads, makes it unalarming to shed up to 100 hairs every single day.
Exogen
The phase in which the hair actually leaves the scalp, the shedding phase, is called the Exogen phase and lasts about 1-3 days. The hairs that you find during this phase will have a hardened follicle attached to the opposite end.
Kenogen
The last phase is called the Kenogen phase and it consists of an dormant phase when the hair follicle its empty and no activity is taking place. This phase will generally last 1-5 months and can last longer in cases of genetic hair loss. Needless to say, we do not want our hair follicles lingering in this stage very long.
After Kenogen our hair follicle moves back down to the root (papilla) and the entire hair cycle starts again! Every hair cycle is an opportunity for your hair to either improve, remain unchanged or in some cases deteriorate.
Helpful tips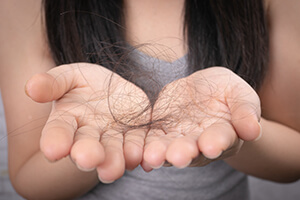 When you find a shed hair, look to see if it's a club hair – if there is a white bulb on the opposite end. If the answer is yes, this hair has been through a full growth phase and this can give you an idea of how long your hair can potentially grow. Do keep in mind that not all hair will grow for the same amount of time, but this is a good starting point to consider.
If you notice that the hairs you find are mostly broken off, ask yourself why? Too much manipulation? Bad product choices? Poor diet? Hair dyes? There are many factors to think of but knowing that your hair is breaking before it reaches its full growth potential should give you the motivation to treat your hair better and allow it to flourish.
Visually keep track of your shed hair. Now that you are aware that your hair should not shed much more than 100 hairs a day, it's a good idea to notice how much hair you find in the shower, on your pillow and in your hair brush. Be mindful that before loss hair is significant enough to reveal scalp, you will have lost about 80% of your hair. At which point the situation will have spiralled out of control. By keeping track of your shed hair, you can notice anything unusual before it's too late.
If 6 months have passed and your hair is not growing back, seek professional help. Start with your doctor and also consult a trichologist who specialises in hair and scalp disorders.